Make learning fun with GameZones.  
Access over 160 educational games that let students practice Social Studies, Language Arts, Math and Science skills. Perfect fit for ages 5-13.
Students can work on one game together or split the screen to let students work on games independently.
Never run out of content. Games randomly generate new content each time they are played.
Please note: GameZones requires a touch screen to interact with the games and is only available for Microsoft Windows .
---
TeacherTools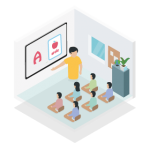 Teacher Tools are perfect for classroom instruction. Easily explain and demonstrate key concepts with colorful, interactive visuals. Practice learning the Alphabet, Telling Time, Sight Reading, Fractions, US States and more. 
Zones
Create up to 4 game zones so each student has their own section of the screen, allowing them to work in teams or individually on a game of their choice. Perfect for working with touch panels in the table top mode.
---