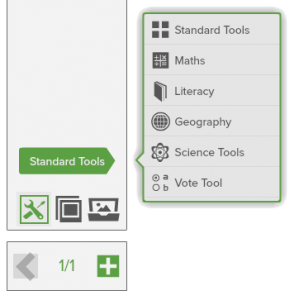 ---
Want to know more? Read on!
Mathematics
Perform calculations using our drag-and-drop sum builder, use the abacus, or create number lines and grids. Measure lines, convert values, work out angles or determine the workings of a circle. Create and explore prisms, pyramids and nets, and explore various shapes and their angles. Teach statistics using the probability spinner and dice, and keep track of information in tables and visualise values by drawing a variety of graphs in both 2D and 3D. Further engage your students with 6 Maths games including Sudoku, Target 24, Memory, and Speedy Sums.
Literacy

Literacy Games turn your classroom into a vibrant and interactive learning zone. Explore the wonderful world of words with some great games like the Word Builder, Word Hunt, Mix Up, and Word Scramble. Create words and sentences in fridge-magnet style with our Word & Sentence Builder, and explore the meaning of words with the Word Roots tool. Test your students' comprehension skills with the Word Vault. Hide words in the Vault to be dragged back into their correct places and add your own words to gauge your students' understanding.
Geography
Select a map from our unique map tool or integrated Google Maps tool and explore countries, borders, and boundaries of any location in the world. Explain weather patterns with nearly 30 individual weather symbols and convert Celsius and Fahrenheit with the interactive thermometer.
Science
Delve into the elements with our interactive Periodic Table. Highlight groups like Solids, Metals, Nobel Gases, Radio Active and more at the tap of a button. Tap an element to reveal a visual of the atom and the outer electron shell as well as links to a wiki page. View information on reactions, compounds, state, structure, colour, melting point, boiling point, period, and group. Build your own molecules using the Molecular Structure tool, design hierarchial pyramids, and illustrate the components of an electric circuit with the Circuit Builder.